Christmas Market
When the town centre of Weimar is lit up by fairy lights every evening, the aromas of roasted almonds and fresh Stollen cake waft through the streets, and the strains of carols can be heard, the Christmas Market has clearly opened again! Christmas in Weimar also means: tradition and stories. Weimar Tourist Information offers Journeys to Weimar, tickets for Christmas concerts and much more.
---
The next Weimar Christmas will take place from 28 November 2023 to 5 January 2024.
The Christmas Market
A Christmas pyramid, handicrafts from the Ore Mountains, a fairytale hut, an ice skating rink and lovingly decorated stalls invite you to linger.
---
Family friendly
Don't miss Weimar's Advent Calendar - it's the Gothic town hall on the market square with its windows specially decorated.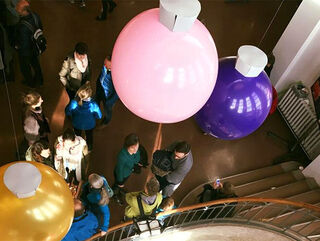 Other markets in Advent
Tip
On Sunday 10 December 2023, local shops in the city centre will be open from 11am to 5pm.
---
Anzeigen