AUTHENTIC THURINGIAN BRATWURST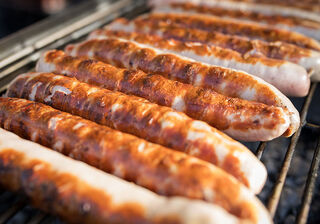 What distinguishes a "genuine" bratwurst sausage?
The Thuringian Rostbratwurst is a local specialty. According to the EU regulation, it is a medium-fine grilled sausage 15-20 cm long, in natural intestine, raw or boiled, with a hearty spicy flavour.
For Thuringian locals, the Rostbratwurst - just like the Rostbrätl (marinated cutlet of pig neck grilled over charcoal) - is not just a type of food; it also embodies an attitude towards life that is expressed above all in the way food is prepared and consumed.
Grilled raw
This method is only used for raw Thüringen grilled sausages, which are cooked on a charcoal grill. Sausages that have been boiled or preserved in other ways are frowned upon, as is cooking the sausages on a gas grill or even frying them in oil. In order to achieve the genuine Thuringian flavour, the genuine Thuringian gourmet uses spicy beer instead of water to cool a grate that has become too hot to the right cooking temperature. This gives off a pleasant, slightly bread-like smelling vapour that stimulates the appetite.
The ideal shape of the finished, cooked sausages is disputed among connoisseurs. Most sausages have a certain curvature, but this has no effect on the flavour. The direction the sausage is laid on the grill is also thought to affect how well they cook. The bratwurst is often left to soak for one to two hours before grilling in beer stock, which preferably consists of pils, mustard, and onion rings. This gives the sausage a particularly good flavour.
Eaten in a bun with mustard - usually
As well as serving the sausage in a sliced-open ​​bread roll with authentic Thuringian mustard, there are also other variations, such as Thuringian potato salad or other salads, or Asian-inspired side dishes with sweet and sour sauces. In Thuringia, however, authentic Thuringian mustard is preferred: a traditional mustard consisting only of ground mustard seed, brandy vinegar, and some horseradish.
---
Anzeigen