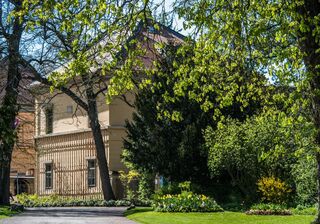 A superstar comes to Weimar
Liszt was celebrated as a pop star even during his lifetime. His stint in Weimar saw the small royal city become a leading hub of the German music scene. By the time Liszt established his base here in 1848, he had a number of exciting years as a travelling virtuoso behind him. He had lived and given concerts in the major centres of Europe at the time, and was now looking for the peace and quiet of a small town to enable him to dedicate himself more intensively to his work as a music writer and, most importantly, composer. During this time, he, his partner Princess Carolyne von Sayn-Wittgenstein and their daughter Marie lived in the Altenburg, a building on Jenaer Strasse.
Composer, patron and music teacher
Franz Liszt worked as a pianist, conductor, composer, teacher, music co-ordinator and senior director of the court orchestra (Hofkapelle) until 1861. It was under his guidance that Richard Wagner's Tannhäuser and Lohengrin, works by Hector Berlioz, and his own piano concerts premiered. During this time, the Altenburg became a meeting place for intellectuals and artists from all fields and nations. A few selected students – including composer Peter Cornelius and pianist Hans von Bülow – lived at the Altenburg, or at least spent most of their time there. The intensive piano and composition class was part of the communal life and concerted effort to promote art. What entered music history as the "New German School" found its hub at Weimar's Altenburg.
Summer residence at the Park an der Ilm
After extended stints abroad, Liszt returned to Weimar and bought the first floor of the Hofgärtnerei building (court gardener's house), which was built in 1798/99 and located at the western entrance to the Park an der Ilm. The artist primarily spent the summer months in this home, residing the rest of the year in Rome or Budapest. His main focus in Weimar was working with young pianists from all over the world. Three afternoons a week, Liszt would give free classes to a number of students. A large part of his estate was to be found in Weimar; his home, at the request of the grand duke, remained unchanged in a bid to erect a memorial to the artist. On 22 May 1887, the founding of the <link kultur sehenswuerdigkeiten museen-in-weimar liszt-haus to an internal>Liszt Museum was celebrated at the Hofgärtnerei, and the building was opened on 24 June.
---
Anzeigen