Bauhaus - how the modern age came to Weimar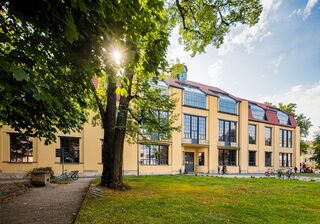 Get to know the modern side of Weimar. The tour starts at today's Bauhaus University Weimar, which played an important role in the German art scene even before the Bauhaus, as a School of Arts and Crafts.
With this city tour you will purchase the Combo ticket – Modernism, which allows you to visit the Museum Neues Weimar, the Bauhaus Museum Weimar, the Haus Am Horn and other houses of modernism. Its director, the Belgian designer and architect Henry van de Velde, had a huge influence on this era. He was also commissioned to design the Nietzsche-Archive, to which you will take a detour.
At the German National Theatre in Weimar you will learn more about the avant-garde alternative of the "model theatre", which was born as an idea at the time.
At the Kunsthalle Harry Graf Kessler you can hear how the dazzling patron of the arts disrupted conservative Weimar.
The highlight is at the end of the tour: The Museum Neues Weimar, which with the exhibition "Van de Velde, Nietzsche and Modernism around 1900" tells the story of the time before the Bauhaus in a highly praised exhibition. You can take your time to explore the other Bauhaus and Modernism sites. The combination ticket that you purchase with this city tour is valid until the end of 2020.

The guided tour is not suitable for people with reduced mobility.
The maximum number of participants is currently 15.
Time & information

Start: always on Fridays at 2:30pm

Duration: approx. 2 hours

Price: 25.00 € per person
---
Bauhaus - how the modern age came to Weimar
---
Anzeigen