Pottery market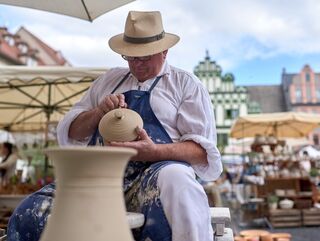 Pottery market in Weimar
Potters from all over Thuringia gather on the market square to demonstrate their skills and sell their finished creations. Visitors watch as the clay is turned and shaped on the potter wheel and browse the stalls to see which pottery most appeals. Styles range from the traditional to the avant-garde but the quality of the craftsmanship is always high. The Pottery market has the feel of a local fair and lasts two days. It also has a programme of events including a traditional potters guild ceremony.
Dates:
September 5th and 6th, 2020
Saturday, 10:00am to 6:00pm
Sunday, 10:00am to 5:00pm

On Sunday, the shops in the city centre are also open from 1.00pm to 6.00 pm.

Note for 2020: There will be admission restrictions as the number of people allowed in the market place is limited this year. Therefore waiting times may occur. Thank you for your patience.
---
---
Anzeigen