Goethe's Residence with National Museum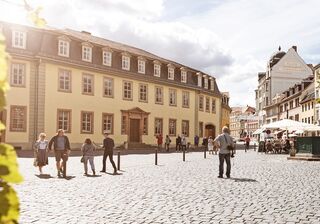 Goethe Residence
One of the most important examples of Classical Weimar, Johann Wolfgang von Goethe lived in this Baroque house for almost fifty years. He lived there from 1782 to 1789 as a tenant, then from 1792 to 1832 as the owner. The poet planned the form and furnishing of the rooms as well as its rich collections, e.g. in the Juno Room. The furnishings and fittings from the last few years of Goethe's life have largely been preserved. For reasons of conservation, the number of visitors is limited.


Goethe National Museum
Shortly after the death of Goethe's last grandson Walther, Goethe's historic residence and his art and nature collections passed on to the trusteeship of the Goethe National Museum, founded in 1885. Two museum buildings were built in 1913 and 1935 to accommodate the steadily growing collection. The Goethe National Museum is situated in the same building as Goethe Residence.
Information
Opening hours
till April 13th:
Tue - Sun 9:30am - 4.00pm

from April 14th to October 30th:
Tue - Sun 9:30am - 6.00pm

31 October - end of year:
Tue - Sun 9:30am - 4.00pm
Closed on Mondays
Bus: Linie 1 Haltestelle Wielandplatz, Wegstrecke
140 m; Goetheplatz alle Linien, Wegstrecke 650 m
Parken:
1 Behindertenparkplatz Frauentaostraße, Wegstrecke 70 m über Kopfsteinpflaster und Kleinpflaster
Menschen mit Sehbehinderung / Hörbehinderung: Assistenzhunde eingeschränkt erlaubt, taktiler Lageplan mit Erläuterungen in Brailleschrift für beide Häuser, spezielle Führungen auf Anfrage,
5 mobile Hörschleifen zur Nutzung der Audioführungen inklusive Begleitheft, Viodeoguide mit Sequenzen in Deutscher Gebärdensprache
Menschen mit Mobilitätseinschränkung: leichte Klappstühle und 2 Greifradrollstühle mit Sitzbreite 40 cm und 48 cm zur Ausleihe, kein Aufzug im Wohnhaus, für Rollstuhlnutzung Innenhof (historisches Pflaster über Rampe 4 m lang, 5% Neigung, Schwelle 2 cm) und Filmvortragsraum im EG über eine Stufe 9 cm nutzbar
Eingangs-Foyer für beide Häuser:
über 10 m historisches Pflaster, Taster für automatische Glastür 130 cm breit
Kasse, Information, Shop und Ausstellung: Counter / Tresen 90 cm hoch, rutschfeste Rampe zum Shop
Filmvorführungen: 20 min in deutscher Sprache im Nebenraum vom Foyer und
10 min 3D-Animationsfilm im EG vom Goethewohnhaus über Rampe zum Innenhof, Tür 85 cm breit mit Schwelle 9 cm
Vortragsraum: im 3.OG mit Aufzug
Aufzug / Lift: UG bis 3.OG, Taster 85 cm hoch, Türöffnung 110 cm, Kabine 135x140 cm, Tastatur 85 cm hoch, taktile Schrift und Brailleschrift, Lichtsignal
Behinderten-WC im UG: Taster 85 cm hoch, Automatiktür 84 cm breit, Bewegungsfläche 110x210 cm, WC 53 cm hoch und 70 cm tief, Haltegriffe beidseitig klappbar mit Zwischenabstand 80 cm, Bewegungsfläche links 70 cm und rechts 110 cm, Waschbeckenhöhe 85 cm unterfahrbar mit Sensorautomatik, Notruf
Begriffserkläung:
UG-Untergeschoss
EG-Erdgeschoss
OG-Obergeschoss
---
Anzeigen