Belvedere Park and Orangery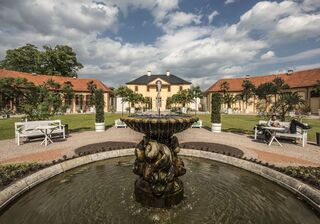 Belvedere Palace stands on a hill at the south of Weimar and is surrounded by 43 hectares of parkland. Duke Carl August, who came to power in 1775, pursued botanical studies at Belvedere together with Goethe. By 1820, a botanical garden had been created to keep approximately 7900 plant species from Germany and abroad. In 1811, Carl August left Belvedere Palace and Park to his son Carl Friedrich and the latter's wife, the Russian Grand Duchess Maria Pavlovna. The later duke had a so-called Russian garden laid for his wife at the west of the palace.

The park had by now gone to rack and ruin, and between 1815 and 1830 it was transformed into a country park in post-classical, romantic style with meandering paths and numerous ornamental park constructions. Grand Duke Carl Alexander, whose reign commenced in 1853, had the palace, park and orangery carefully preserved and maintained. The park was reconstructed between 1974 and 1978 and the Russian Garden between 1978 and 1982. Reconstruction and restoration work on the orangery complex began in 1998 and will be completed step by step over the next few years.
opening hours
Orangery Belvedere, plant collection Langes Haus

March, 1st - April, 25th
Wed - Sun 11am - 5pm

December, 22nd - February, 28th
Wed - Sun 11am - 4pm
Parken Belvederer Allee Nähe Schlossanlage (350m) mit Kiesbelag
Menschen mit Rollstuhlnutzung und Mobilitätseinschränkung: Kiesweg ab Parkplatz zum Park (davon 50m Neigung 6 bis 10%); Kieswege im Park mit Querrinnen und Neigung von 3 bis 6%, Bereich um die Große Fontäne Neigungen bis 10%; Schlosseingang mit 8 Stufen ohne Handlauf, für Rollstuhlnutzung nicht geeignet; Studiotheater für Rollstuhlnutzung nicht geeignet
Behinderten-WC mit Gebühr Gebäuderückseite vom Café & Restaurant "Schlossterasse"
Café & Restaurant: Zugang ab Parkplatz 120m (davon 50m Neigung 6 bis 10%); Eingang 3cm Schwelle; Tür 90cm breit; Tische unterfahrbar


Park and Orangery Belvedere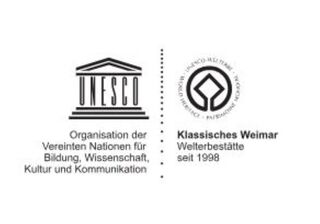 ---
Anzeigen