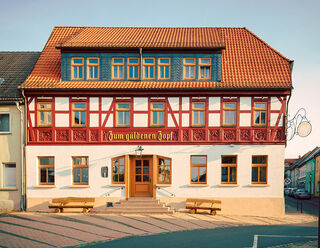 Zum güldenen Zopf
The traditional restaurant, was restored in detail by the Grafe family and reopened in September 2016.
A little off the main route through Blankenhain stands a magnificent half-timbered house in warm colours, the restaurant "Zum Güldenen Zopf". This cuisine is truly regional. What is prepared here comes from the region. The chefs talk about tidy plates and like to tell the stories about the meat, fish and vegetables and how it got to them in the "Zopf".
The menu includes hearty dishes like Thuringian dumplings with roulade and red cabbage or Thuringian roast beef with fried potatoes, as well as light dishes like fillet of pike-perch with pearl barley risotto. "If we manage to offer our guests a special experience with regional ingredients and our culinary art, we can at the same time inspire them for this region and for its sustainable food production.
---
Anzeigen