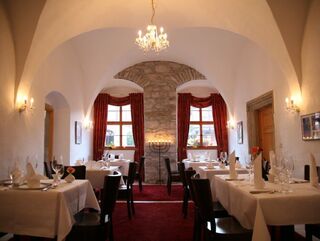 Restaurant "Reinhardt's im Schloss"
A cultivated hospitality in Auerstedt has a name: "Reinhardt's im Schloss". This is the name of the museum's café and restaurant where Kati and Frank Reinhardt enliven the lovingly restored Auerstedt castle with their imaginative cuisine, style, taste and enthusiasm.
The house in the heart of the Thuringian wine-growing region is considered an insider tip in gourmet circles from near and far. A visit to the castle courtyard is a must when enjoying a good wine on the outdoor terraces or in the wine cellar.
---
Anzeigen