Parking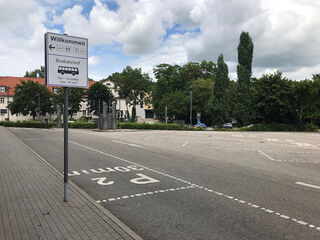 Parking for coaches
Parking facilities for coaches
Bus station at the Weimar-Atrium: Friedensstraße 1, directly in the city centre, well signposted from all access roads.
There are 17 bus parking spaces available with a maximum stay of 30 minutes. The area at the Weimar Atrium is used as a bus station. Bus drivers have the opportunity to stop there for passengers to board.
The Center WC on the 1st floor is available for the needs of the tourists.
Marcel-Paul-Straße: free of charge, signposted as coach park

P&R car parks
Marcel-Paul-Straße: large car park for buses and a total of 400 cars, from the north on the B 85

Sackpfeife, Hospitalgraben: for a total of 175 cars, from the south on the B 85 from the A 4, exit Weimar/Gelmeroda

Hermann-Brill-Platz: caravans (maximum parking time 24 h) and cars, from the south on the B 85 via Stadtring and from the east on the B 7 from the A 4, exit Nohra. 12,- € per day
Information
Car parks in the city centre
Car parkings
Am Friedhof, Berkaer Straße
from a southerly direction B85 from A4
Hermann-Brill-Platz
There are few paid parking slots in the city centre
Parking for motorcycles
Free of charge parking slots for motorcycles:
Hummelstraße / corner Schützengasse
Gerhart-Hauptmann-Straße / corner Coudraystraße
Beethovenplatz, on the side stripe, in front of the hotel Dorint
---
Anzeigen