iTour App
Tourists can enjoy their own personal tour through Weimar with German, English, French or Dutch commentary using an iGuide, which describes 30 attractions with both text and images. Goethe and Schiller chat about Weimar in an entertaining manner, quoting from their works. The iGuides can be rented from the Weimar Tourist Information Office, and are particularly ideal for guests with restricted mobility.
New: "Weimar during National Socialism" is now also available as a fully multimedia tour: With commentary about the Nazi sites in Weimar, with original speeches by Adolf Hitler and others, as well as numerous photos – currently only in German.
---
The Weimar experience via Smartphone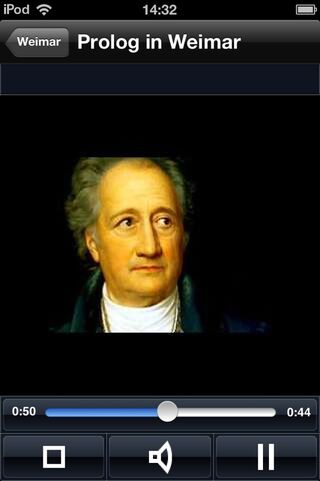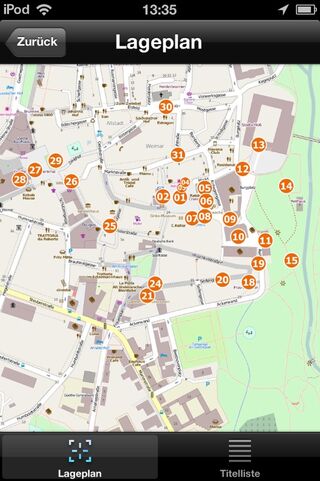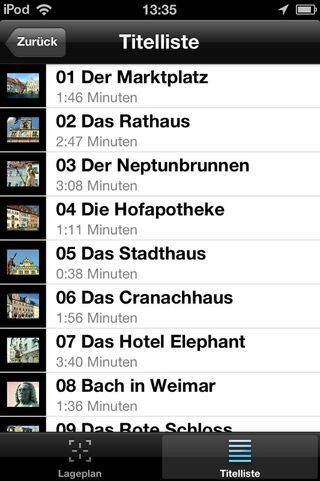 The multimedia city tour is now also available as an app from the Apple iTunes Store. The huge advantage of this is that you don't need to hire a device from a specific place. For €1.29, you can download the app directly to your Smartphone whenever you want.
The specific multi-touch-screen technology enables the app to be used intuitively. You can also get your bearings using a map, and select a cover from a menu.
App download
Google Play Store: iTour Weimar
itunes: iTour Weimar
itunes: Buchenwald Memorial, English
itunes: Gedenkstätte Buchenwald, Deutsch
Information
Tourist-Information Weimar
Markt 10

Openiug hours:
April - December
Mo till Sa: 9.30am - 6pm
Su and holidays: 9:30am - 2pm

January - March
Mo till Fr: 9.30am - 5pm
Sa, Su and holidays: 9:30am - 2pm
More information
Lanuages:
Deutsch, English, Francais, Nederlands
Rental fees:
Weimar tour and "Weimar during National Socialism"
Up to 4 hours: € 7.50 each
1 day: € 10.00 each
Evening rate (from 4pm to 10am the next day) € 10.00
Thuringia Card holders (4hrs) free - excl. accessories
---
Anzeigen